Rammell was nabbed by an Idaho Fish and Game officer who found him with an elk, but not the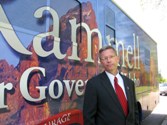 proper tag required for hunting. "I was upset that they confiscated my elk," Rammell said, also refuting the law enforcement version of the story that alleges he resisted. "I did not threaten the fish and game officer; I simply told him if he's going to take my elk, he's going to have to shoot me first," Rammell said. When the officer told him the elk was needed as evidence, Rammell said he suggested that the officer should take a picture as evidence instead. The officer didn't take him up on the suggestion/Ben Botkin, Capitol Confidential. More here.
Question: Would you like to see Rex Rammell run for a state or federal office again?