Mon., Dec. 6, 2010, 12:59 p.m.
TF Reporter Bell Rings For 3 Hours
In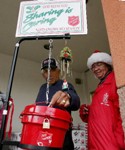 Twin Falls, News-Times reporter Amy Huddleston discovered what life was like on the other side of the little silver bell that rings out from various stores during the holiday season. She rang a Salvation Army bell for three hours. Writes she: "I was given a bell, a red kettle, a very large red coat with the words 'Salvation Army, Doing the Most Good' printed on the front and a post outside the Magic Valley Mall food court." Also, she was told "to smile, ring the bell nicely and tell people 'God Bless' because as (a Salvation Army official) said, 'we are a church first of all'"/Amy Huddleston, Twin Falls Times-News. More here. (AP file photo)

Question: Do you drop a dollar or so into the collection plate every time you encounter a Salvation Army bell ringer? Or every other time? Or sometimes? Or never?
---
---