Wed., Dec. 8, 2010, 9:28 a.m.
Jack Buell Gets Spirit Of Idaho Award
Benewah County Commissioner Jack Buell was one of seven individuals or groups in northern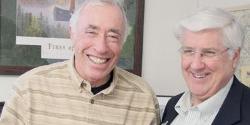 Idaho to receive a Spirit of Idaho award for contributions made to the family of late WWII Medal of Honor recipient Vernon Baker. In addition to monetary support, Mr. Buell donated firewood and assisted during the family's home improvement project, which was funded completely by private donations. Following Mr. Baker's death, an account was established by American Legion Post 143 in Post Falls to help pay for travel arrangements to his funeral at Arlington National Cemetery for Mr. Baker's wife, Heidy, her daughter, Alexandra Pawlik, and Pawlik's 10-year-old son, Vernon. More than $20,000 was raised/Chris D'Angelo, St. Maries Gazette-Record. More here. (Gazette-Record photo: Benewah County Commissioner Jack Buell was recently presented a Spirit of Idaho award by Rep. Dick Harwood.)
Question: Long-time Commissioner Jack Buell is beloved in parts of Benewah County for his acts of generosity and disliked in other parts for his stand against cross-deputization with the Coeur d'Alene Indian Tribe. Would do you think about him?
---
---