Nic: Living With A Coffee Addict
My wife is an addict. She can't go a day with out a cup (or seven) of hot black coffee. This doesn't bother me. I adore the aroma of brewing coffee filling the house and I enjoy an occasional cup.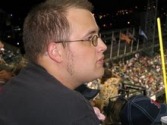 But my wife has a problem. No, she doesn't drink too much. I jest about her her being a coffee addict, but I know people whose java addiction is a serious issue that makes Bekah look like a recreational user. Bekah's complication is not the rate of her consumption.  Her dilemma is the quantity of mugs used during the course of a day. She'll brew a pot, start sipping her first cup and set it down somewhere to carry on with the rest of her day. An end table, the kitchen counter, the bathroom, window sills, on top of the TV in our bedroom - she's fairly indiscriminate in where she abandons her cup of coffee/Nic, Rants, Raves, & Random Thoughts. More here.
Question: Are you a coffee addict? Do you leave your half-filled coffee mugs laying around everywhere?
---
---