Fri., Dec. 17, 2010, 8:54 a.m.
Avista Fined For Assistance Snafu
State regulators fined Avista Corp. more than $60,000 for improper handling of customer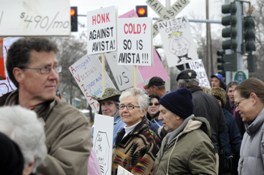 accounts. Most of the violations were related to errors in how energy-assistance dollars were credited to low-income families. Avista was putting the money toward customers' old past-due bills, instead of crediting it toward current and upcoming payments. "That money is intended to keep the heat and the lights on right now," said Sharon Wallace, assistant director for consumer protection at the Washington Utilities and Transportation Commission. "What happened was that the company applied the money … to old balances." That put some customers at immediate risk of having their power shut off, she said/Becky Kramer, SR. More here. (SR file photo: Protesters demonstrate against high power bills last February)

Question: Do you think Avista's mishandling of energy-assistance dollars was intentional?
---
---