Sat., Feb. 13, 2010, 6:25 a.m.
Judge Overturns Seattle Gun Ban
The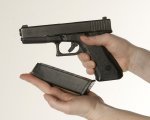 law has sided with the gun rights advocates who took the city of Seattle and former Mayor Greg Nickels to court over the city's gun ban. King County Superior Court Judge Catherine Shaffer on Friday ruled in favor of the Second Amendment Foundation, the Citizens Committee for the Right to Keep and Bear Arms, Washington Arms Collectors, National Rifle Association and five individual plaintiffs, declaring the city of Seattle's gun ban at public places is in direct violation of Washington state's firearm pre-emption law/KOMO-TV. More here.
Question: Do you think gun ownership will be banned in your lifetime, in an attempt to control the growing violence in this country?
---
---