Wed., Feb. 17, 2010, 1:28 p.m.
Groom Jailed Twice On Wedding Day
One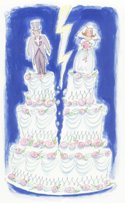 marriage got off to a shaky start after the groom was arrested in Lewiston for being drunk and disorderly and then arrested again in Clarkston later for domestic violence against his new bride. Nathan E. Lewis, 21, of Lewiston, was charged Tuesday in Asotin County Superior Court with one count of second-degree assault and interfering with a report of domestic violence following his arrest Monday. Lewis was married on Sunday and allegedly got drunk and was arrested for disorderly conduct in Lewiston ... (Asotin County Deputy) Snyder's report states after Lewis was bailed out of jail, his mother attempted to call law enforcement again when he was "out of control." ... Lewis left and the report states his bride called police to report Lewis assaulted her immediately after getting out of jail/Lewiston Tribune. More here.
Question: Any words of advice for the happy couple?
---
---