Thu., July 1, 2010, 1:15 p.m.
Nation's Educators To Honor Stewart
The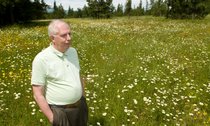 nation's largest organization of educators will honor Coeur d'Alene human rights activist Tony Stewart on Friday in New Orleans at the annual Human and Civil Rights Awards Dinner. The National Education Association will present Stewart with the H. Councill Trenholm Memorial Award, which is given to an individual who makes a significant impact on education as a profession and who promotes understanding among racial and ethnic groups, an NEA news release said. NEA President Dennis Van Roekel called Stewart "a shining example of how passion and commitment to human rights can transform a community"/Alison Boggs, SR. More here.
Cutline: Human rights activist Tony Stewart, shown last year where the Aryan Nations compound once stood near Hayden, will receive the H. Councill Trenholm Memorial Award. (SR Photo)
Question: Have you ever wondered what this community would be like, if the late Bill Wassmuth, the late Larry Broadbent, Norm Gissell, Tony Stewart, and others hadn't stepped forward in the 1980s to oppose Richard Butler & the Aryan Nations?
---
---