THURSDAY, JULY 1, 2010, 1:10 P.M.
New Spokane Bishop Faces Challenges
The incoming Catholic bishop of Spokane is undaunted by the challenges of leading a cash-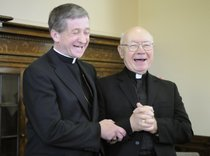 strapped church in the aftermath of bankruptcy brought on by the clergy sex abuse crisis. Bishop Blase J. Cupich, 61, (shown laughing, left, at press conference with outgoing Bishop William Skylstad) said he is adept at doing more with less in western South Dakota, where he was bishop of Rapid City. "The important thing is mission, not money," Cupich said. "If you get mission right, money follows." The diocese has little cash in the wake of a $48 million bankruptcy settlement sparked by about 180 allegations of sexual abuse. The diocese has disclosed the names of 11 priests, 12 Jesuits and four clergy within other Catholic orders that it acknowledges sexually abused children over several decades.The aftershocks from the bankruptcy continue to linger/John Stucke, SR. More here.
Question: What does Bishop Cupich have to do to restore the image of priest in the Spokane area?
---
---