FRIDAY, JULY 2, 2010, 3:30 P.M.
3rd Place Finisher Loves Ironman CdA
On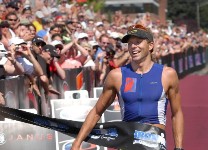 Sunday, June 27, I raced my fifth Ironman Coeur d'Alene up in beautiful North Idaho. After winning the inaugural race in 2003, I had finished in third place three times ('05, '07, '08). After Sunday's race, I managed to punch a trade-marked stamp of authority on the number THREE up there. Yes, I now have four third-place finishes in CdA. How's that for consistency? Showing up in Coeur d'Alene for an Ironman at the end of June has become very familiar territory for me. I know when to travel, where to stay, how to spend my final days of preparation: everything. It's as much of a home course race for me as any Ironman could be, and for that (and many other reasons) CdA is my favorite Ironman outside of Kona/Michael Lovato, of Boulder, Colo. More here. (SR file photo by Jesse Tinsley, of Lovato's 2003 CdA race)
Question: Do you like to read personal stories from top triathletes who participated in Ironman Coeur d'Alene?
---
---