Cis: Not A Marilyn Monroe Wife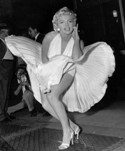 I was not the Marilyn Monroe type of a wife. I was/am the one who went hunting and fishing. Clean fish, help wrap or cut meat. I cleaned up pretty good to go out, but I have never been the makeup and hairdo type … While my husbands were never ashamed to be with me, I was never a trophy type of a wife … But I have been a loving wife. Always there to go thru the rough times of life with each one of them, when we were married. (divorced once, widowed once and still married to the third one). I tried never to take them for granted … and while from time to time they drove me nuts, I figured out, that I probably drove them nuts as well.
Question: Cis also mentions that she wasn't a Martha Stewart wife or a "Leave It To Beaver" mom. Which famous person would you compare your spouse skills to?
---
---