Mag Picks Portland As Most Patriotic!?
We (Portland) are the most patriotic city in America, according to a new survey by Men's Health magazine.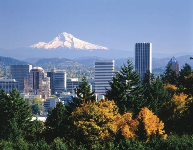 The reason: the high percentage of registered voters who turned out for state and federal elections between 2004 and 2008; the amount spent on military veterans per capita; the high percentage of residents who volunteer and participate in civic activities; and the number of fireworks and U.S. flags we buy. The Star-Spangled Cities survey ranked Portland number one, ahead of Salt Lake City, Kansas City, Mo., Seattle and Tampa. Jersey City, New Jersey came in dead last, just behind Honolulu and El Paso/Kimberly A.C. Wilson, Oregonian. More here.
DFO: I like Portland. A lot. But I'd thing the town is "intentionally weird" way before I'd think it was "patriotic." In fact, "patriotic" wouldn't be on my top 10 list for Portland?
Question: Which adjective would you use to describe Portland?
---
---