Tue., July 6, 2010, 2:01 p.m.
Bunker Hill Landscape Healing
In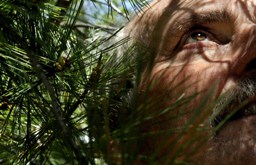 the early 1970s, Kellogg's bleak backdrop reminded Ed Pommerening (pictured) of Vietnam. Bare hills rising from the historic mining town bore an eerie resemblance to the napalmed jungles the young forester saw during his stint as an Army ranger. Not a single tree, huckleberry bush or tuft of grass grew on the hillsides. Corrosive soil killed anything that sprouted. The ruined landscape was the legacy of decades of emissions from the Bunker Hill Lead Smelter and Zinc Plant. When Pommerening was hired as the company's forester, an executive told him, "You're going to make all these hillsides green." Over the next 20 years, Pommerening replanted 7,000 acres of trees with the help of high school students, blanketing the hills with conifer seedlings/Becky Kramer, SR. More here.
Question: Do you recall how the hillsides around Kellogg looked three or four decades ago?
---
---