Tue., July 6, 2010, 10:05 a.m.
Idaho Hall To Induct Rushmore Sculptor
(Idaho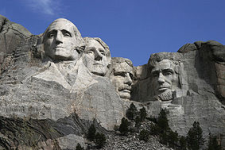 native & Mount Rushmore sculptor) Gutzon Borglum's motivations for dealing with the KKK may be hazy, but the association has long been a matter of public record. Maybe not as well known as longtime U.S. Sen. Robert Byrd's KKK history (but well known nonetheless). Which renders this quote from Idaho Hall of Fame president Dallas Cox uninformed at best. "Oh my gosh, you're kidding?" Cox told The Associated Press. "Well, I'll bet if we sat down and took every one of the inductees since 1995, you could find something on every one of them." Now that's reassuring. When Borglum joins the hall's class of 2010 inductees, this won't exactly represent a monument to due diligence/Kevin Richert, Idaho Statesman. More here. (Wikipedia photo)
Question: Should the Idaho Hall of Fame induct Mount Rushmore sculptor Guzon Borglum, who has documented ties to the KKK?
---
---