Wed., July 7, 2010, 5:39 p.m.
Discussing Women's Health Awkward
Larry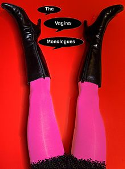 Forney would like you to talk about your vagina. With your doctor, primarily. But, while you're at it, it wouldn't hurt to have a little chat with a friend or a colleague or spouse, too. All that silence and avoidance may not be good for you. Forney is a researcher and professor at the University of Idaho who is studying the composition of "vaginal bacterial communities." When he tells people what he does, he generally inspires two responses: the awkward, uncomfortable, looking-away variety, and the engaged, excited, why-haven't-I-heard-this-before variety. This tends to break down along gender lines, and it says something about the reasons a medical and research culture long dominated by men might still not know all that much about the subject/Shawn Vestal, SR. More here. ("Vagina Monologues" poster from Wikipedia)
Question: I'm in the "awkward, uncomfortable, looking away" camp, re: this subject (no matter what Prof Fourney sez). How about you?
---
---