Thu., July 8, 2010, 10:38 a.m.
Help Us Gov. Obi-Jan, You're Our Only Hope
On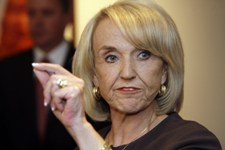 her Eye On Boise blog, Betsy Russell has published the letter sent by the Bonner County Republicans to Arizona Gov. Jan Brewer: "At the June meeting of the Bonner County Republican Central Committee of Bonner County, Idaho, the membership voted to affirm your new law on illegal immigration and to make a statement at the Bonner County Fair by displaying evidence of our support. The theme of this year's fair is the Spanish word for celebration: "fiesta". The Republicans at BCRCC want to make it very clear that English is our primary language, and call our booths "Celebrate!" We'd like to display some Arizona license plates if you have some to spare. Please let us know where we might obtain a couple. Our fair happens the last week of August. Thank you." See more of Eye on Boise post here. (AP file photo of Arizona Gov. Jan Brewer)
Quotable Quote: "Never had anybody go to such extremes as this -- my God, they must have something better to do with their money and time. I guess whatever turns their crank" -- Bonner County Fair Board Chairman Tim Cary.
---
---