Thu., July 8, 2010, 8:15 a.m.
Wallace: The Center Of The Universe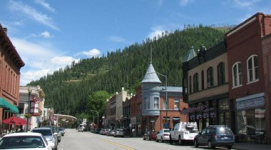 Once you land in Wallace take a deep breath and relax. Park your car in the shade somewhere (parking is free) and plan to spend at least a couple of hours wandering through antique and secondhand stores. If this is your first visit, stop at the Wallace District Mining Museum at Fifth and Bank streets. Here you'll find all the tourist information you can carry with you, including how to get on the Sierra Silver Mine Tour, which has a trolley running from downtown. /Pia Hallenberg, SR. More here.
Question: My visiting family and my family spent a fun day a few years ago kicking around Wallace, including a tour of the Sierra Silver Mine and museum. How about you? Have you ever taken a road trip to Wallace?
---
---