Tue., July 13, 2010, 3:55 p.m.
Avista Dan Wants You @ City Park
Avista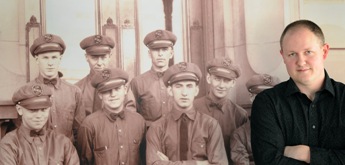 Dan will be interviewing Avista customers (who happen to be milling about) at Coeur d'Alene City Park at 11 o'clock Wednesday morning for the utility's Energy on the Street. E-mails Dan: "Our goal for this project is to get questions from Avista customers on camera. We'll then have Avista employees provide answers and place both the Q and A on our website for everyone to see on video. The idea is that many customers have the same questions and we want to get everyone in the know through real interactions." Dan writes more about the Energy on the Street project on the Avista blog here. (SR photo by Dan Pelle, of Dan Kolbet with a mural of Washington Water Power meter readers pictured in 1925.)
DFO: How about some of you Berry Pickers heading down to City Park tomorrow morning to give Avista Dan a fine Huckleberries howdy-do?
Question: What question would you like to ask Avista?
---
---