Wed., July 14, 2010, 5:15 p.m.
Hart Files Response To Ethics Charges
Phil Hart filed this response with the House Ethics Committee, meeting to discuss his continuing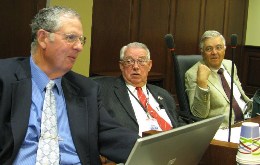 income tax problems: "I want you to know that this part of the process of governance does not minimize the passion I have to serve the people of the 3rd legislative district. I sought this office because I wanted to be in a position to protect our constitutional rights and the liberties of the people. I am seeking re-election now because, with my six years of experience, I feel I can be more effective in attaining those lofty goals. American patriots fight for what is right in the country and reject is what is wrong with the country. This battle for me is no less than fighting for what is right and just in the legislative arena and in the state that I have grown to love. This battle for what is right gives me the opportunity to tell an American story. And tell that story I will." More from Betsy Russell/Eye On Boise here.
Cutline: House Ethics Committee Chairman Tom Loertscher, R-Iona, left, visits with committee members Bert Stevenson, R-Rupert, and Bill Killen, D-Boise. (Betsy Russell/Eye On Boise photo)
Hart response: You can read Hart's response in full here.

Question: Satisfied with the response?
---
---