Wed., July 14, 2010, 9:50 a.m.
Local War Hero Vernon Baker Dies
President Clinton and Sandra Johnson applaud after Vernon Baker received The Medal of Honor from the president during a ceremony in the East Room of the White House Monday Jan. 13, 1997. (Spokesman-Review file photo by Craig Buck)

Vernon Baker, the only living black World War II veteran to receive the Medal of Honor – the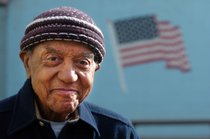 nation's highest commendation for battlefield valor – died at his home south of St. Maries, Idaho, Tuesday. He was 90. Baker died after a long battle with cancer, family members said. "I loved him. For me, he was the hero in my life," said Baker's stepdaughter, Alexandra Pawlik. "I named my son after him." Baker will be buried at Arlington National Cemetery, said family friend Lil Shanks, a spokeswoman for the family. "The Medal of Honor people have been notified," she said. "It's when they have the time and the opening for the ceremony back there"/Ken Olsen, special to The Spokesman-Review. More here.
---
---