Wed., July 14, 2010, 4:26 p.m.
OpenCDA Keeps Up Vote Fraud Mantra
At OpenCDA.com, Dan & Mary continue to foment their incredible theory that goofy theory that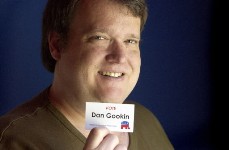 serious voter fraud took place in the city of Coeur d'Alene last November. Mary is on point this time, producing a blog post that begins "It's not just here in good 'ole Coeur d'Alene, serious voter fraud is being uncovered in other places too." She continues by citing other elections: Demo Al Franken's Senate win in Minnesota; Hillary vs. Obama; and a 2008 Black Panther voter intimidation case. Which causes Gookin to intone from the Peanut Gallery: "The people who threw the 2009 City Election had to learn from somewhere." Hold your nose, and click here.

Reaction?
---
---