WEDNESDAY, JULY 14, 2010, 9:17 A.M.
Task Force Rips County Re: Tribe Stand
To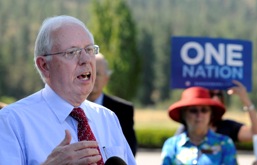 the Kootenai County Board of Commissioners: The Kootenai County Task Force on Human Relations Executive Committee on behalf of the Board of Directors is both shocked and amazed at your unwise decision to appeal the decision of the U.S. Bureau of Indian Affairs to place 142.56 Coeur d'Alene Tribal acres into trust land status for the first time in 30 years. Your decision defies logic, fairness and a good neighbor policy. You are opposing the annual loss of $9,900 or .0001 percent of a county budget of $73 million while ignoring the tremendous annual financial contributions of the Coeur d'Alene Tribe/Tony Stewart, Kootenai County Task Force on Human Relations executive committee (in letter to Coeur d'Alene Press). More here. (SR file photo by Jesse Tinsley, of Tony Stewart)

Question: Do you agree with the task force or the Kootenai County commissioners?
---
---