Sat., July 17, 2010, 6:15 a.m.
Statesman: Vernon Baker Was A Real Hero
It's an article of faith that we live in an era when heroes are rare, if not extinct. But it takes the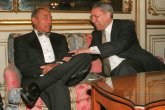 passing of a real hero to underscore the truth of the truism. Valor. Duty. Honor. Idahoan Vernon Baker exhibited all of those, even when his country treated him as a second-class citizen. Vernon Baker was black. He was called names and made to ride in the back of the bus on his way to basic training. He served in Italy in World War II in a segregated unit. When he saved wounded fellow soldiers by killing Germans, occupying their position and drawing enemy fire, he was not considered for the Medal of Honor. For black heroes, that recognition took an act of Congress in the 1990s. Baker died this week in St. Maries at age 90/Idaho Statesman Editorial Board. More here.
Cutline: SR file photo of then General Colin Powell and Vernon Baker at Baker's medal of honor ceremony in Washington, D.C., in January 1997.

Question: Do you know someone who's a real hero?
---
---