Mon., July 19, 2010, 5:20 p.m.
Hot Cars Jeoparize Pets Inside
Even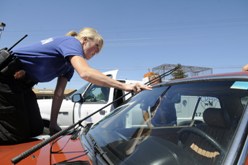 with the windows cracked, the temperature of the leather seat inside the Mercedes-Benz parked in the Value Village parking lot on East Sprague on Saturday afternoon climbed to more than 140 degrees. Down on the floor, where Olive, a Yorkshire terrier, was huddled beneath the foot pedals, an infrared gun gauged the temperature at a cooler 109 degrees. "It's literally like cooking," said Spokane County Regional Animal Protection Services Officer Ashley Brown, who was dispatched to rescue the dog. It's a scene that's all too familiar for animal control officers/Sara Leaming, SR. More here.
Cutlines: Animal Control Officer Ashley Brown climbs onto a car to try and unlock it through the sunroof to free a dog left in the car on a hot day Saturday along Sprague in Spokane Valley. (SR photo: Jesse Tinsley)
Question: Would you break a vehicle window to save an animal left inside?
---
---