WEDNESDAY, JULY 21, 2010, 8:29 A.M.
Post Columnist Eulogizes Vernon Baker
Remarkably, Baker and other African American soldiers did not allow racism or resentment to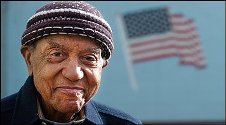 break their spirit. This is what he would have us remember: "We had made an ass out of everyone who said we couldn't do it." Prove the naysayer wrong, Baker said. Do good in school, stay out of trouble and recognize your self-worth even if others do not. "Yet, I still wanted respect and the acknowledgment that we were good," wrote Baker, a native of Cheyenne, Wyo./Courtland Malloy, Metro Columnist, Washington Post. More here. (H/T: Shea Andersen)
Question: Has anyone in your family won a medal for service during a war?
---
---