WEDNESDAY, JULY 21, 2010, 1:16 P.M.
Where Have All Serious Repubs Gone?
Of all the potential contenders for the 2012 presidential nomination, Romney, who was a moderate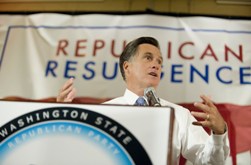 governor of the state that once was the bastion of what the legendary Washington journalist and snob Joseph Alsop referred to as the "WASP ascendancy," might seem like the most logical candidate to restore the traditions of pragmatic Republican internationalism after the neoconservative domination of the past decade. Instead, he has offered a potent reminder that anyone serious about seeking the nomination of today's Republican Party has to establish his or her right-wing bona fides on foreign policy by acting as though Russia -- not to mention the State Department and the CIA -- remains an enemy of the United States/Jacob Heilbrunn, Foreign Policy. More here. (AP file photo)

Question: Will the push to the right destroy the National Republican Party? Or energize it?
---
---