Thu., July 22, 2010, 12:10 p.m.
High Noon: Embracing Soccer
When three out of six people in your household play or coach soccer, the World Cup becomes a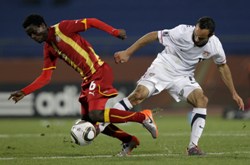 very big deal. Consequently, at Casa Hval from June 11 to July 11, vacation days, mealtimes and social activities all revolved around game time. Which wasn't as bad as you may think. Soccer is one of the few sports I actually understand and even enjoy. The notable exception being the "offside" call. This rule has been explained to me by 10-year-olds, professional soccer players, volunteer coaches, referees and Wikipedia. It has been diagramed for me on chalkboards and clipboards. I have watched demonstrations in which grapes, olives and popcorn were used to depict players and positions.  I still don't get it/Cindy Hval, Washington Voices. More here. (AP file photo: Ghana's Anthony Annan, left, and United States' Landon Donovan, right, compete for the ball during the World Cup match June 26.)
Question: What do you like most/least re: soccer?
---
---