Shoe Tree's Gone, Bra Tree Lingers On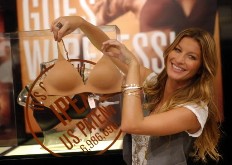 Shoes dangling among the pine cones surely detract from the natural ambiance of a cedar grove. But decorating things with cast-off clothing is not unheard of here in the Inland Northwest. There's the bra tree up at Schweitzer, located within easy underwear-tossing distance from the Sunnyside Chairlift. There are the telephone poles alongside the highway to Ainsworth Hot Springs, north of Nelson, B.C., each sporting a necktie/Susan Drumheller, Idaho Conservation League. (AP file photo for illustrative purposes of Supermodel Gisele Bundchen, with Victoria's Secret bra. More here.
Question: I didn't know that there was a Bra Tree on Schweitzer Mountain. Did you?
---
---