Sat., July 24, 2010, 8:51 a.m.
Hart To Seek End Of State Income Tax
The northern Idaho lawmaker at the center of a House ethics investigation hopes to introduce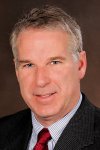 legislation next year that would eliminate the state income tax on wages and salaries. Rep. Phil Hart, R-Athol, said his proposal would bring Idaho's tax code back in line with what the income tax was originally intended to be: a tax on business and investment profits, rather than on wages. "This issue is fundamental to Idaho's (economic) revitalization," Hart said. "I don't think our economy is going to recover until we figure out how to bring jobs back from overseas. We can't do anything about that at the state level, but we can make Idaho more attractive than the other 49 states"/William Spence, SR. More here.

Question: What do you make of plans by embattled Rep. Phil Hart to introduce legislation to eliminate the state income tax?
---
---