TUESDAY, JUNE 1, 2010, 3:35 P.M.
Labrador Blasts Minnick 'Don't Ask' Vote
Raul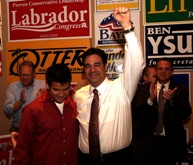 Labrador, the Republican candidate for Congress in Idaho's 1st District, is critical of Democratic Rep. Walt Minnick's vote on legislation that could repeal a policy preventing gays and lesbians from serving openly in the military.  Minnick voted in favor of a plan to end the don't ask, don't tell policy. The change would go into effect if a survey conducted by the armed forces determines that allowing homosexuals to serve openly would not be disruptive. "Mr. Minnick's vote is a disappointment to me, and disappointment for most Idahoans," Labrador, a state representative from Eagle, said in a statement on his campaign website/Brad Iverson-Long, Idaho Reporter. More here. (AP Photo: Matt Cilley)
Question: Will Minnick be helped or hurt by his vote to repeal "don't ask, don't tell" legislation?
---
---