Tue., June 1, 2010, 10:37 a.m.
Spokane Wi-Fi Going Way Of Dodo
For the past six years people have referred to it as Spokane's HotZone. Within a year or so, it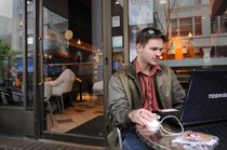 could be the Spokane HotZone Museum. City and business leaders started the free wireless Wi-Fi area in 2004, eventually creating a 100-square-block area across downtown Spokane. Today the zone is on its last legs. People can find the signal most of the time, but frequently it's a weak Internet connection. That is, when they even bother looking for the signal at all. In today's mobile-device world, the idea of a wide-area metro wireless area has largely fallen into the technology irrelevance pile/Tom Sowa, SR. More here. (SR Photo)
Question: How often do you use wi-fi? Where do you use it?
---
---