Wed., June 2, 2010, 4:19 p.m.
ICL: How Big Is That Oil Spill?
I'm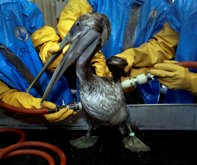 more likely to learn of interesting websites while I'm on the web, but today I found this website over morning coffee while looking at the Idaho Statesman. This website, created by Andy Lintner of Royal Oak, MI, opens a Google map of the spill in the correct location. How to use the site isn't totally obvious, but in the blank above enter a location (such as Idaho) and then hit "move the spill." It's pretty dramatic. Placed over Idaho, the spill goes from Boise way past Challis. To understand what's happening in the world around us, putting things into a context we can relate to is always a challenge.  This site does that very well. /Rick Johnson, Idaho Conservation League. More here. (AP File Photo: A Brown Pelican is cleaned at the Fort Jackson Wildlife Rehabilitation Center at Buras, La.)
Question: How closely have you been following the story re: BP's oil spill?
---
---