Thu., June 3, 2010, 2:08 p.m.
UI Prof Paper Launches Vagina Dialogues
Larry Forney, University of Idaho professor of biological sciences and director of the Initiative for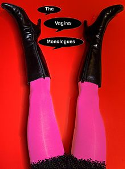 Bioinformatics and Evolutionary Studies (IBEST), just had this research http://bit.ly/aBcdvd published in the Proceedings of the National Academy of Sciences. He acknowledges the public's general reluctance to talk about it, and admits freely that it's not a polite dinner conversation topic. But Forney also knows that silence on a topic that affects 3 billion people globally is detrimental to women's health. Brace yourself: it involves the "V" word! There is a great deal of controversy or stigma about vaginal health. Even recently in Spokane, Gonzaga banned The Vagina Monologues production on campus. Silence may impact women's health since few women or their doctors are comfortable talking about vaginal health openly/Joni Kirk, University of Idaho public relations, More below in drop-down box. Also: Study provides new insights about women's reproductive health. And: Vaginal microbiome of reproductive-age women
Question (from Joni Kirk): Are you afraid to talk about this issue, and if so, are you contributing to the problem? 
This hesitation, combined with a limited understanding of the differences between women, can lead to misinformation, misdiagnosis and potentially ineffective treatments. Forney's research is helping to increase understanding about normal vaginal microbiota – or bacteria – so that physicians can better identify conditions that make women prone to infections and other diseases, and avoid the development of health problems. His hope is to encourage a "vagina dialogue" of sorts.
---
---