Mon., June 7, 2010, 3:54 p.m.
Jim: Libraries Matter More Than Ever
All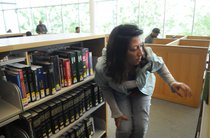 right, I've finally figured out how the city's budget works. The city gets in trouble, looks around for an easy target, spies the Spokane Public Library and hacks it to death. Really? This is the best way to dig out of a budget hole? Maybe I'll go to the library and study this some more. So here I am at the library, and the place is buzzing. It's jammed with people reading, working on school projects, writing notes on index cards, checking out romance novels, applying for jobs on computers and just generally coming in out of the rain/Jim Kershner, SR. More here. (SR Photo)
Question: Are you using your local library more/less/the same as you used to do?
---
---