Mon., June 7, 2010, 9:36 a.m.
Thomas Quits After Israel Comments
Veteran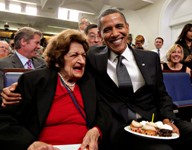 White House reporter Helen Thomas
is retiring in the wake of controversial comments she made about Israel. Hearst News Service, for which Thomas is a columnist, reported her retirement announcement Monday. Her retirement is effective immediately. She began covering the White House
in 1960. Thomas has apologized for the comments, which were captured on video by an interviewer for the website "RabbiLIVE.com." On the May 27 video, Thomas says Israelis should "get the hell out of Palestine," suggesting they go to Germany, Poland or the U.S./MSNBC.com. More here.
Cutline: President Barack Obama, marking his 48th birthday, takes a break from his official duties to bring birthday greetings to veteran White House reporter Helen Thomas, left, who shares the same birthday and turned 89 last Aug. 4.
Question: Isn't Helen Thomas entitled to her opinion -- or at least a misstep -- after covering the White House for 50 years? Or did her comments re: Israel go too far?
---
---