Tue., June 8, 2010, 1:25 p.m.
Road Rage Victim Lies Re: Missing Legs
The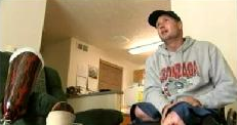 victim of a road rage incident last week in Spokane misstated the circumstances that led to both his legs being partially amputated in a car crash last winter. On June 3 Cody Balka participated in an interview in the wake of a road rage incident where another driver - Scott Cramer - was tailgating his car and flipping him off as he was driving along the freeway. Cramer reportedly got out of his car and attempted to punch Balka. He was later arrested by Spokane Police. Balka, however, made misstatements about another driver being involved in the crash that took both of his legs Dec. 28, 2009/Sally Showman, KXLY. More here.
Question: Why would a person lie about something like the crash in which he lost his legs, when the story was easy to check out?
---
---