Wed., June 9, 2010, 1:29 p.m.
Seahawk Pursues Donut Into Trouble
Seahawks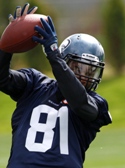 rookie Golden Tate was a little late for National Doughnut Day, which was last Friday. And he arrived a little too early for Top Pot Doughnuts cafe in Bellevue. It doesn't open until 7 a.m. on Saturdays. So when Tate and a friend found their way into the cafe at about 3 a.m. on Saturday, timing became a problem and precipitated a visit from the Bellevue Police officers and a warning for trespassing. So what prompted all the trouble? Maple bars. Freshly baked. "They're irresistible," Tate said. "It was kind of a foolish mistake that won't happen again." At least not while the store is closed. "If you ever want some maple bars, that's the place to go," he said. Somewhere, Homer Simpson just drooled/Danny O'Neil, Seattle Times. More here.
Question: Are the Seahawks and Seattle media dismissing this trespassing incident a little too much tongue in cheek?
---
---