Wed., June 9, 2010, 10:54 a.m.
Slim Pickings For Teen Job Hunters
Teenagers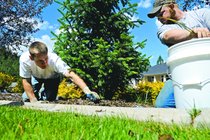 looking for summer jobs are running into a wall. Teen hiring in May – typically the kick-off for seasonal jobs kids get to save for college or pay for fun – was worse than it's been in more than 40 years. Grant Gillies and Caleb Peck decided to hire themselves. Gillies, 18, and Peck, 19, have a classic summer job – mowing lawns, doing yardwork – but they're giving it a professional gloss. They have a business name, GNC Lawn Care, and are adding equipment as the calls come in. "We've been very busy," said Gillies. With some hustle and hard work, the two longtime friends and 2009 Mead High School graduates are circumventing a problem facing a lot of their peers – a historically bad job market for the young/Shawn Vestal, SR. More here.
Cutline: Grant Gillies, left, and Caleb Peck, 18 and 19 respectively, weed the backyard of a house in the Mead area on Tuesday. The two started GNC Lawn Care and have been building their business for the summer. (SR Photo)
Question: What are your teen children doing for jobs this summer? And/Or: What did you do as a teen to earn money during the summer?
---
---