Thu., June 10, 2010, 8:35 a.m.
Akey: Punished For Cleaning House
"As much as I hate to lose any scholarships, we cannot let a rule I struggle with hold us hostage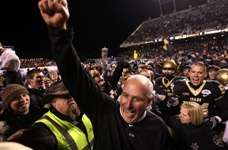 and keep us from running a strong program," Akey said in an Idaho release. "Our APR will continue to improve. I believe we are doing a good job of managing it." Two years ago, the Vandals operated with 76 scholarships – nine below the maximum of 85 – after Akey had booted nearly 20 players from the team following his arrival prior to the 2007 season. While announcing his '08 recruiting class, the coach was critical of the system the NCAA set up because UI was being punished for trying to clean up the program. "This is not what this rule, I don't think, was intended to do," Akey said then/Josh Wright, SR SportsLink. More here.
Question: Is there any question that the Idaho Vandals are better off today, competitively and academically, than they were before Robb Akey took over as football coach. Should the NCAA factor that in before taking away scholarships?
---
---