Thu., June 10, 2010, 3:05 p.m.
County OKs Road Thru Flood Area
Disappointingly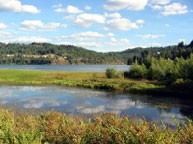 bringing an end to a long process, lame-duck Commissioners Rick Currie and Rich Piazza outvoted Commissioner Todd Tondee today to approve a site-disturbance permit for a roadway through a frequently flooded, contaminated property along the Coeur d'Alene River near Medimont. The proposal, from developer/realtor John Beutler, would provide new access to an unbuilt subdivision along the River. Community members and environmental interests (including KEA) opposed the project as unnecessary in purpose and problematic in its design. More to the point, the County simply shouldn't be permitting permanent roads in an area which floods frequently in non-extraordinary high-water events. Especially when such flooding brings contamination each and every time/Terry Harris, KEA Blog. More here.
Reaction?
---
---