Thu., June 10, 2010, 11 a.m.
Timberlake District Cans Fire Chief Krill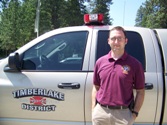 Citing budget woes, the commissioners for the Timberlake Fire District voted to fire Chief Jack Krill (pictured) and negotiate a management contract with Northern Lakes Fire District. Kirk Quillan, the commissioner representing Bayview explained that the move is strictly budget driven and not about performance. With the polarization of the last year, this is going to be difficult for many to swallow. With management shifting to Hayden, local supervision will not be quite the same/Herb Huseland, Bay Views. More here.
Reaction?
---
---