Fri., June 11, 2010, 4:10 p.m.
Akey: Notre Dame'd Make Good Sub
Josh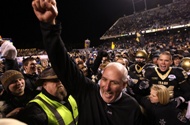 Wright/SR SportsLink (via Twitter): Robb Akey on changes to WAC: "If we replace (BSU) with Notre Dame, I think we're going to be perceived as a pretty strong conference." Akey, of course, was joking about Notre Dame. But he does see WAC adding another school. Also worried about losing La. Tech down the line. ... Also, Josh reports: Rob Spear says UI's non-conference schedule is booked through 2012. Playing BSU "will have to be in the future." So no UI-BSU until 2013.
Question: Should Idaho do all it cans to schedule games with Boise State after 2012? Or should UI quit trying to play keep-up w/the Broncos and look elsewhere for nonconference foes?
---
---