Kids are absolutely going to love this. The serenity of Idaho's tranquil waters is soon to be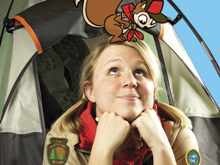 interrupted by a band of swashbuckling salty sea dogs, as the Pirates of the Caribbean culture craze spreads from the high seas of Hollywood to the forested shores of Lake Coeur d'Alene. "The resort has been doing scenic lake cruises for years, so this year they decided it would be fun to try out a Pirate-Themed Summer Cruise," says Jillian Kramer, production director (and Director of Entertainment at the Lake City Playhouse). This isn't your average troupe of circus-sideshow wannabees — more than 60 actors auditioned, Kramer says/Blair Tellers, Pacific Northwest Inlander. More here.
Question: Do you include summer cruises on Lake Coeur d'Alene aboard Hagadone Hospitality boats among your traditional summer fun activities?