Fri., June 11, 2010, 11:15 a.m.
Dog Park Needs Few Good Volunteers
From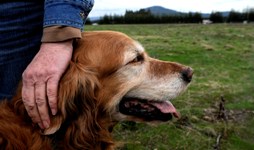 Dustin Ainsworth: "The COEUR Group is working with the city and the KCDog Park folks to install the fencing on the 2-plus acres of property designated for our soon to be dog off leash dog park. The Coeur Group is in charge but we can use as many good volunteers as possible for two days (tomorrow & Saturday, June 19) . All the materials are ready and we are set to roll. Tomorrow we are installing all 90-plus posts and then on the 19th we are hanging the fencing. It is all done with volunteers. The location is Nez Perce and Atlas Road, just south of Kathleen Avenue. We will begin tomorrow at 8 a.m. Anyone with fencing experience and leveling tools is welcome.
Question: Do you and your pet plan to use the new dog park?
---
---