Sat., June 12, 2010, 6:05 a.m.
Idaho Dems Told To Engage Younger Gen
(Oregon lawmaker Jefferson) Smith, pictured, offered four suggestions for Idaho Democrats (gathered in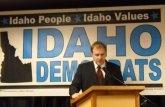 Worley this weekend for their state convention) to use in both campaign material and public policy work in the future that he believes will make them stand out to voters in the state.  Smith said that Democrats should engage in "economic gardening," a process of investing in local businesses instead of working to attract outside companies to the area, as well as lead the state in looking for water infrastructure projects for the future.  Democrats should also look to makeIdaho schools more energy efficient, Smith said, by using public bonds to fund projects and then use savings in the energy costs to fund the bonds. Smith also believes that Idaho Democrats could gain notoriety by encouraging public schools to use locally-grown food in cafeterias, which, he said would create jobs and provide more nutritious foods for students/Dustin Hurst, Idaho Reporter. More here.
Question: What's the best Idaho Democrats can hope for in the 2010 elections?
---
---