SATURDAY, JUNE 12, 2010, 6:12 A.M.
Montana To Replace Boise State In WAC?
Karl Benson, the WAC's commissioner, said in a news release that the conference's board of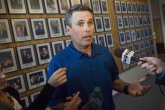 directors will start evaluating replacements for Boise State right away. Reports have mentioned Montana, a member of the Big Sky Conference, as a possible candidate. Akey said the Grizzlies make sense for the WAC geographically. Yet moving from the Football Championship Subdivision (formerly Division I-AA) to the NCAA's highest division is "quite an expenditure," the UI coach noted. Asked about the perception of the WAC now that Boise State is leaving, Akey said, "To really give you an answer on that, we've got to see where we are when the dust settles." Then he joked: "If Boise is the only team that has left and we replace them with Notre Dame, I think we're going to be perceived as being a pretty strong conference"/Josh Wright, SR. More here. (AP Photo/Idaho Press-Tribune, Charlie Litchfield: Boise State football coach Chris Peterson)

Question: Which school would you like to see replace Boise State in the Western Athletic Conference?
---
---