Mon., June 14, 2010, 10:25 a.m.
Vuvuzelas Cause Annoying Soccer Buzz
Waaaaaaaaaaaaaaaaaahhhhhh! We're writing this column under proper World Cup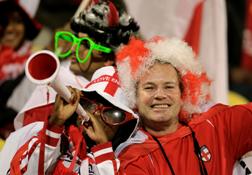 conditions—with vuvuzelas blasting in both of our ears. Is everyone already exasperated with the Infamous Plastic Horn of Distraction? WE SAID, IS EVERYONE ALREADY EXASPERATED WITH THE INFAMOUS PLASTIC HORN OF DISTRACTION? There are reports that World Cup organizers are already considering a ban on the vuvuzela, the ubiquitous narrow instrument that's making every contest in South Africa sound like a ferocious swarm of radioactive bees—or a Hollywood publicists' luncheon. Vuvuzela-mania is threatening to drown out national anthems, quick-witted soccer chants and tender conversations about 19th century literature between U.S. and English fans/Wall Street Journal. More here. (AP Photo: An England supporter blows a vuvuzela as another cheers before the World Cup group C soccer match between England and the United States)
DFO: Can you picture anyone trying to blow one of those silly horns at an Oakland Raiders football game?
Question: Should World Cup officials ban vuvuzelas from their soccer matches?
---
---