Wed., June 16, 2010, 8:28 a.m.
Idaho Leads US In Teen Meth Use Drop
A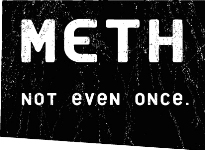 new report which shows that use of the harmful drug meth is down among Idaho teens is drawing praise from Gov. Butch Otter, whose wife, Lori, has been instrumental in the state's effort to reduce consumption of the drug by youth in the state.  The new report, released this week by the Centers for Disease Control, shows that between 2007 and 2009, meth use among Idaho's teens dropped by about 52 percent, a rate five times higher than the national average. The report, officially known as the National Youth Risk Behavior Survey, shows that Idaho held the top spot in the rate of decline of meth use among teens.  Across the nation, there was a 10 percent drop in number of teens using meth/Dustin Hurst, Idaho Reporter. More here.
Question: Do you think the graphic ads circulated by the Idaho Meth Project, depicting the debilitating effect meth has on users, is responsible for this dramatic drop?
---
---