Thu., June 17, 2010, 11:41 a.m.
Ed Board OKs $375K Per Year For Akey
The Idaho State Board of Education approved new six-figure contracts for the Boise State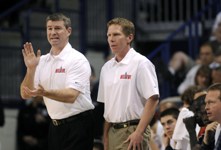 University (BSU) basketball coach and the University of Idaho's football coach during a board meeting Thursday.  BSU's Leon Rice (formerly an assistant at Gonzaga) will make a base salary of $400,000 for the next five years, plus incentives that could add up to an additional $70,000 a year if the team wins the NCAA basketball championship and players' academic progress ranks highly. ... The U of I's Robb Akey will earn an average of more than $375,000 during the next five football seasons, with incentives that could add up to another $158,000 a year for various achievements including winning seven games in a season, being named national coach of the year, or finishing in the Top 25 ESPN/USA Today poll/Brad Iverson-Long, Idaho Reporter. More here. (SR File Photo: Dan Pelle, of Leon Rice, left, as an assistant coach for Gonzaga's Mark Few.)
Question: Do you agree with the amount of pay that Robb Akey and Leon Rice will be getting to coach teams at UI & BSU, respectively?
---
---