Sat., June 19, 2010, 6:03 a.m.
Daily News: Utes, Buffs Upgrade Pac-10
The last two weeks saw a virtual hurricane blow through college athletics. Nebraska left the Big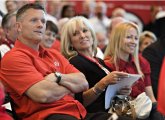 12 to join the Big 10, the Pac-10 nearly destroyed the Big 12 by taking four schools and Boise State left the WAC to join the Mountain West Conference. Pac-10 commissioner Larry Scott had a hand in most of it, and he nearly changed the landscape of college athletics. A week ago many football fans throughout the Palouse had visions of going to Martin Stadium to watch the Cougars take on the Texas Longhorns in conference play. It was an intriguing idea, and one that nearly came to pass, but last-minute wrangling by the old guard of the Big 12 halted Scott's vision of a super Pac-16 conference. Now Coug fans can look forward to playing Colorado and Utah instead of Texas and Oklahoma, and that's not necessarily a bad thing/Sandra Kelly, Moscow-Pullman Daily News. More here.
Cutline: University of Utah head coach Kyle Whittingham, left, attends a news conference to announce the acceptance of an invitation to join the PAC-10 at the University of Utah in Salt Lake City on Thursday. (AP Photo/Deseret News,Mike Terry)

Question: Is the Pac-10 that much better with the addition of Utah & Colorado?
---
---